Happy Hanukkah!!
All the best bakes are always around the holidays.
Babka wasn't really something I grew up eating. We made challah all the time. But babkas notso much. I think I was scarred from too many super dry/ overly sweet babkas. I became wary of trying them.
It wasn't until I was in Israel for birthright that I started to love it! All the markets would have fresh baked babkas in all sorts of flavors. Cinnamon, pistachio, chocolate obviously. So fluffy and full of flavor!
Babkas are one of those bakes that are really best the day they're made. These kinds of breads dry out so fast. You do drown the loaf in a looot of simple syrup to make sure it stays moist, so that def helps.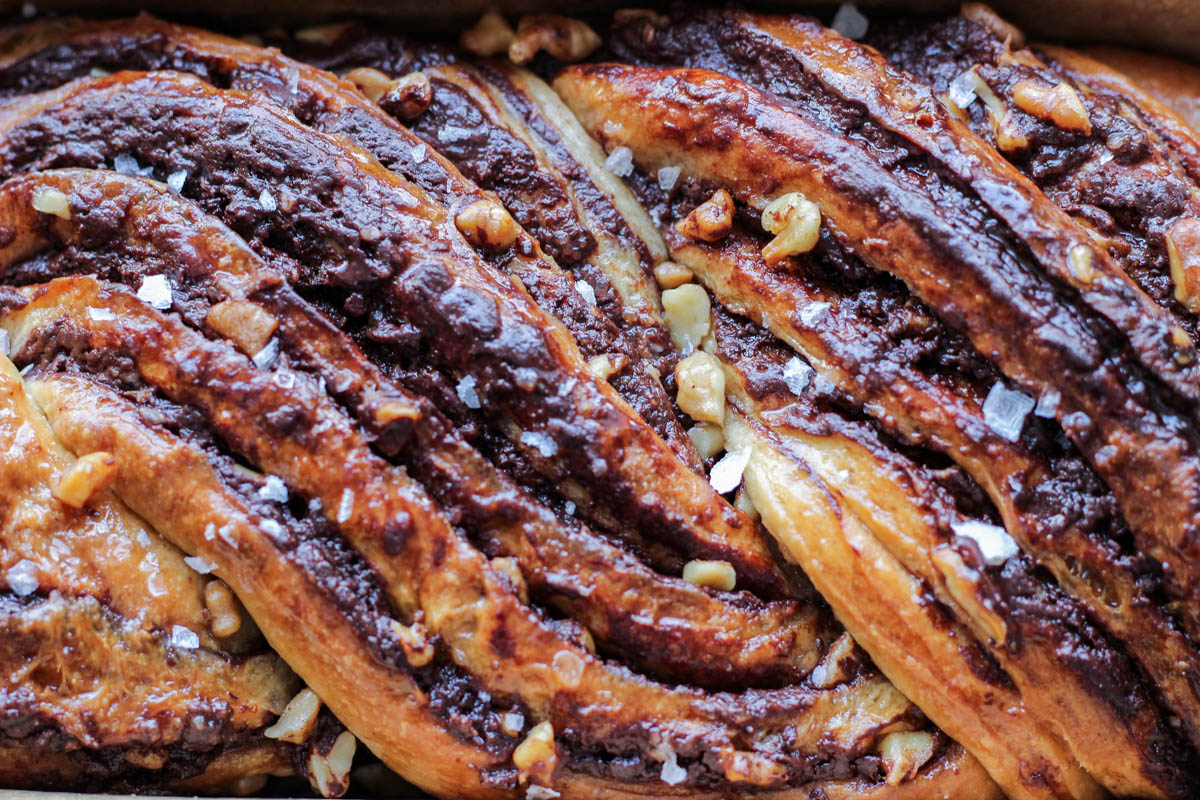 I flavored my dough with orange zest that goes so well with the super rich chocolate filling. And the little pops of toasty walnuts. Plus a little Maldon sea salt on top really brings it together. Mmm.
Chocolate Babka
From
Mostly Sourdough
at
https://mostlysourdough.com/2018/12/chocolate-babka/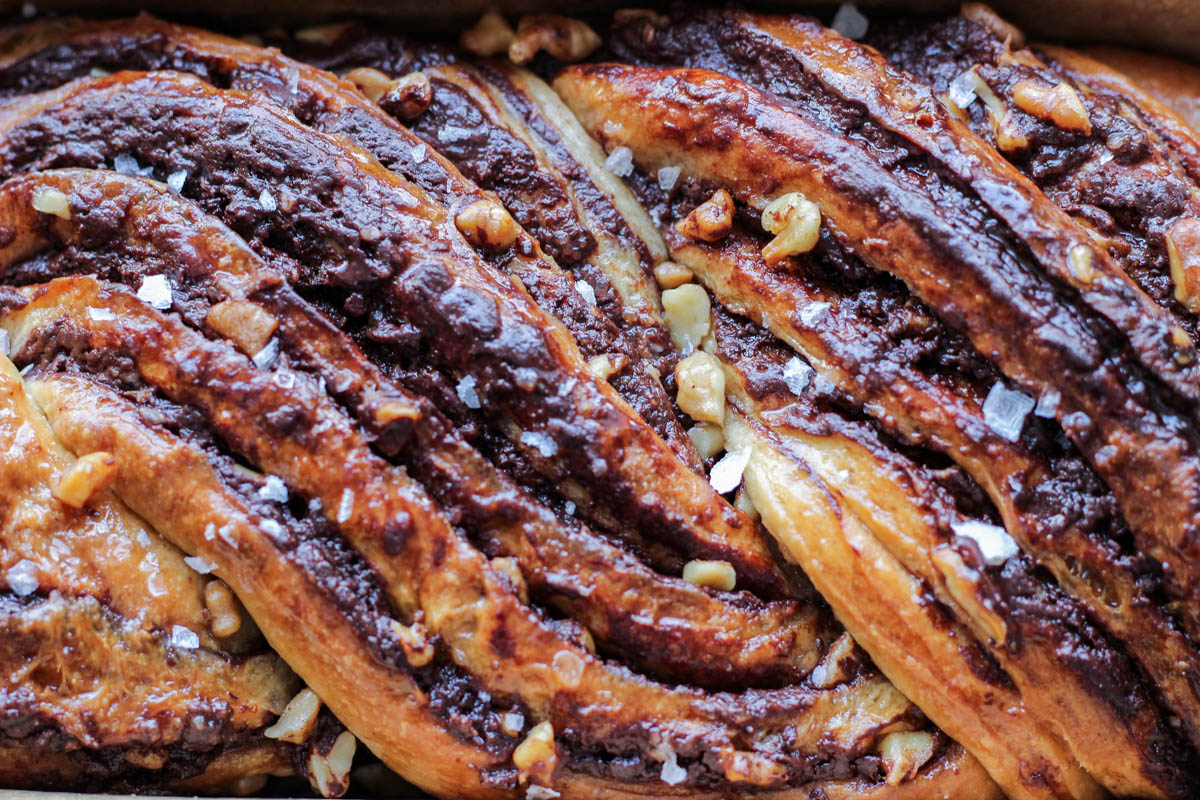 https://mostlysourdough.com/wp-content/uploads/2018/12/IMG_7533-6.jpg
Cook:
Yield:

1 loaf, 12 slices

Total:
A yeasted cake flavored with orange zest, with a rich chocolate and walnut filling.
You'll Need...
Dough:
2 cups all purpose flour
1/4 cup brown sugar
1 teaspoon instant yeast
Zest of one orange
1/2 teaspoon salt
1 egg
1/3 cup warm water
1/3 cup unsalted butter, room temp
Filling:
1/2 cup chopped walnuts
1/3 cup chopped dark chocolate
1/4 cup unsalted butter
2 tablespoons powdered sugar
1 tablespoon cocoa powder
1 tablespoon turbinado sugar
Simple Syrup:
3/4 cup sugar
1/3 cup water
Sea salt for topping
Directions
The night before baking: Make the dough: In the bowl of your stand mixer, combine the dough dry ingredients and zest and whisk together. Next add the egg, and water, and mix with the dough hook until all the dry bits are soaked up by the wet. This can take up to 5 minutes. Slowly add the butter, one tablespoon at a time until it gets absorbed into the dough. Continue to mix until the dough is smooth and passes the window test. Place the dough in an oiled bowl, cover with plastic and refrigerate overnight.
Day of baking: Filling: Combine the chocolate and butter in a microwave safe bowl and microwave for 30 seconds. Stir with a spatula, and if there are unmelted bits, microwave again for up to 30 more seconds until melted. Add the cocoa powder and powdered sugar and whisk until smooth.
Assembly: On a floured surface, roll out your dough into a rectangle, about 1/4 inch thick. Spread the chocolate filling over the surface, leaving an inch border around the edges. Sprinkle the chopped nuts and turbinado sugar over top the chocolate. Paint one of the short ends with a bit of water, and roll the opposite end tightly towards it like a swiss roll. Seal it up on the wet end. Cut off each end bit so the swirl is exposed. Next, slice the log in half lengthwise to expose your layers. Twist the two pieces together and place in the loaf tin. Cover with a towel and allow to rise for an hour. It won't expand all that much.
Baking: Preheat the oven to 350 degrees, and bake for 30-40 minutes until a thermometer in the center reads between 185-200 degrees. Immediately paint the loaf with the sugar syrup, allowing it to settle in after each addition. Sprinkle with sea salt if desired. Allow to cool in the tin before removing.
Additional Notes
The dough is made the day before its baked.
You can switch out the flavoring in the dough if desired.
Recipe adapted from the cookbook Jerusalem by Yotam Ottolenghi
It's almost the last day of Hannukah, so what's more appropriate than a babka for breakfast! Or dessert.