Hi hi hello!
It's October! And I am all about it.
I'm usually an avid fan of this season anyways, but something about this year made me extra ready to jump into the cozy bakes and weather. Could be COVID and already feeling like cozying at home.
Probably has to do with how I much I like to snuggle up with my cat, Jonah. He gets SO snuggly when it's cold out. It's my favorite thing ever. If I sit on the couch with a blanket on, he's on me in within 5 minutes and will stay there for hoursss. Love it.
This is a super easy and seasonally appropriate use of leftover sourdough starter. I inevitably end up with extra starter pretty regularly because I bake bread every couple of weeks and I hate to throw away discard from feedings or levain. Cue this wonderful pumpkin bread!
This is like your favorite go-to pumpkin bread, but with a little something extra. I love this crumble topping so much, and with the pepitas it is just perfect.
Sourdough Pumpkin Bread
From
Mostly Sourdough
at
https://mostlysourdough.com/2020/10/sourdough-pumpkin-bread/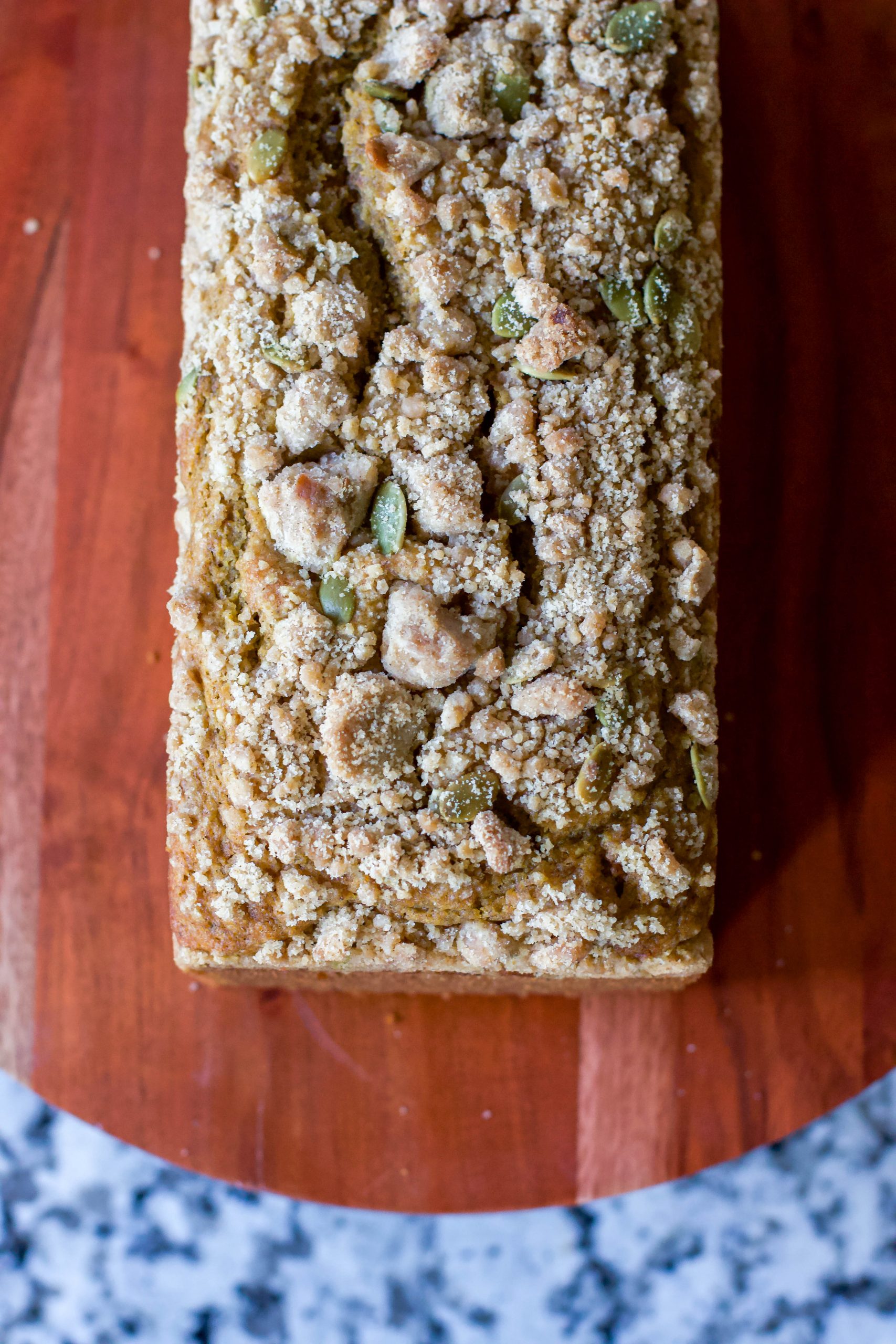 https://mostlysourdough.com/wp-content/uploads/2020/10/IMG_9538-scaled.jpg
Prep:
Cook:
Yield:

1 9x5 loaf

Total:
A classic pumpkin bread made with sourdough discard and a pepita crumble topping.
You'll Need...
215 grams all purpose flour
4 grams baking soda
3 grams baking powder
1 gram salt
4 grams cinnamon
2 grams nutmeg
1 gram cloves
3 eggs
200 grams sugar
160 grams neutral oil (or melted butter)
225 grams sourdough starter (can be discard or fresh)
4 grams vanilla
225 grams pumpkin puree
Crumble topping: (Optional)
38 grams unsalted butter, melted
22 grams granulated sugar
22 grams brown sugar
A pinch of cinnamon
Pinch of salt
63 grams AP flour
10 grams pepitas
Directions
Line a 9x5 loaf pan with a parchment sling and preheat the oven to 350 degrees.
Crumble: In a small mixing bowl, combine the sugars, cinnamon and salt and whisk together. Pour in the melted butter and whisk until incorporated. Then add the flour and pepitas and mix with a rubber spatula until it combines into a coarse crumble. Feel free to use your hands to squeeze bits together to form bigger crumbs. Spread out on to a baking sheet and refrigerate until firm.
Pumpkin Bread: Add the dry ingredients to a mixing bowl and whisk to combine. In a separate bowl, whisk the eggs together with the sugar until well mixed. Next, add the oil, sourdough starter, vanilla and pumpkin. Whisk together until smooth. Fold the dry ingredients in with a spatula until just combined. Do not overmix. Pour the batter into the prepared pan and top with the crumble topping.
Bake: Bake for 55 to 65 minutes, or until a toothpick inserted comes out with a few crumbs. Keep an eye on it; if the top is starting to brown too quickly, tent it with foil part way through baking. Cool in the pan for 10 minutes or so before using the parchment sling to pull it out.
It's no surprise that I am obsessed with pumpkin bakes, and this is easily one of my favorite ways to use up leftover sourdough. Two of my favoritest things in one bake! 🙂
This bread is super nice and fluffy, well spiced and not too sweet!
And it's so lovely with a cup of tea.