Happy almost Valentine's Day friends. I am here to share this cutie little heart cake.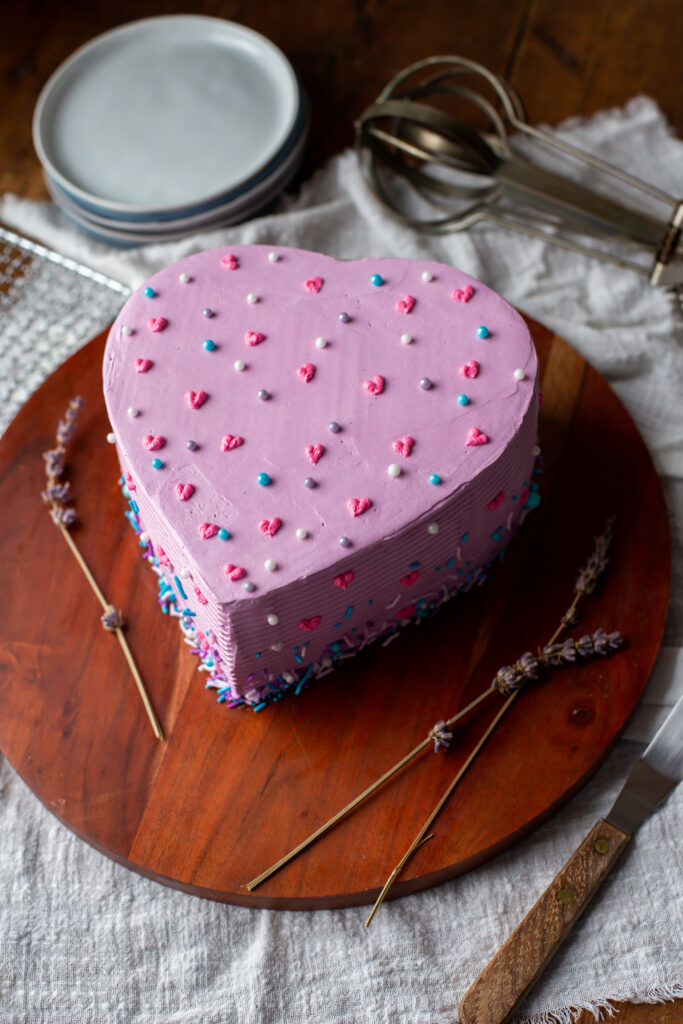 If you are on social media, I'm sure you've been seeing these cute heart cakes pop up all month. I have to say (in my opinion), most of the ones I've seen online are way too gaudy! All that extra piping, and excess of sprinkles or candy.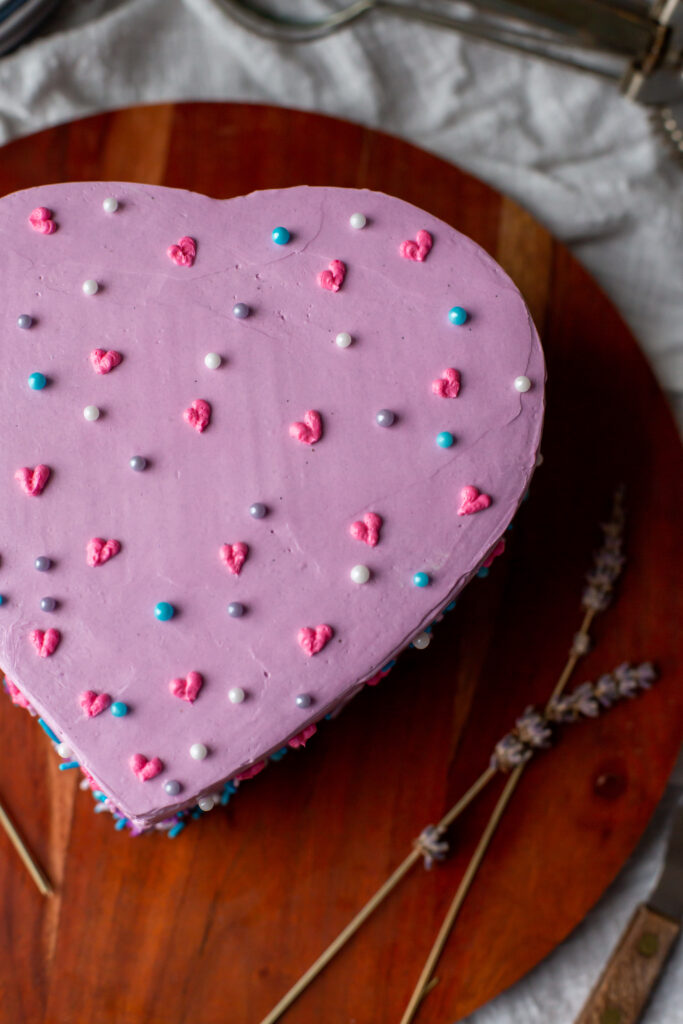 I know it's meant to be retro, but I personally wouldn't want to have to eat that much frosting or extra stuff. I tend to like my cakes on the simpler side. This one has some of that fun flair, but not too much. 😉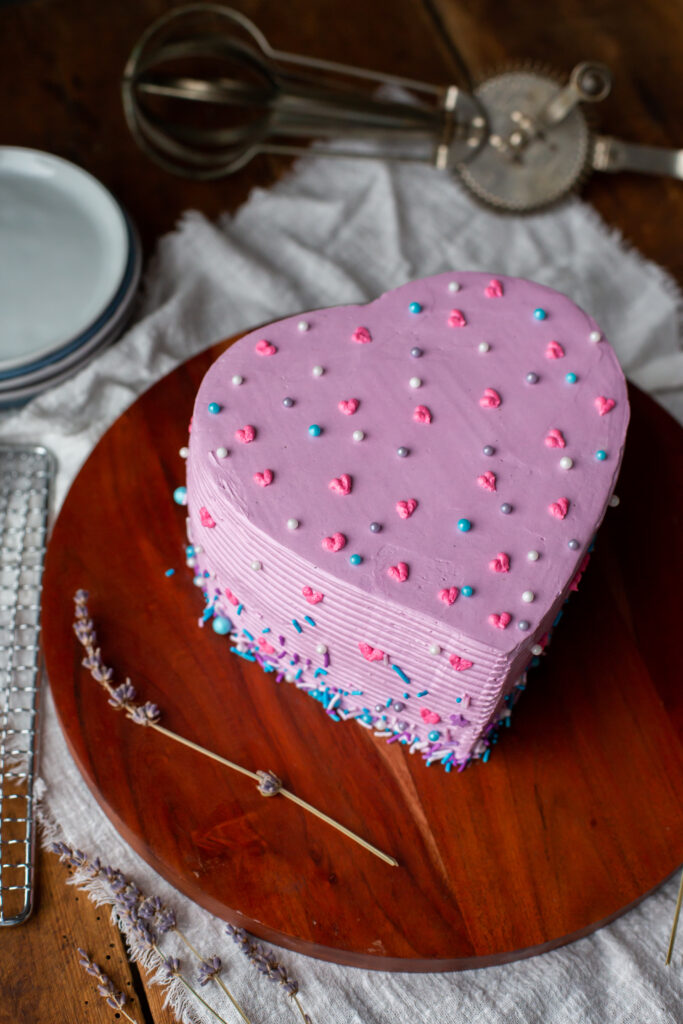 This is my absolute favorite chocolate cake recipe. It's rich and dark, but so moist, soft and fluffy in texture. I also threw some sourdough discard in there, because of course I did.
The filling is a cookies & cream flavored buttercream (made simply by mixing together some of the meringue buttercream with cake crumbs — which you get from leveling off the top of the cakes).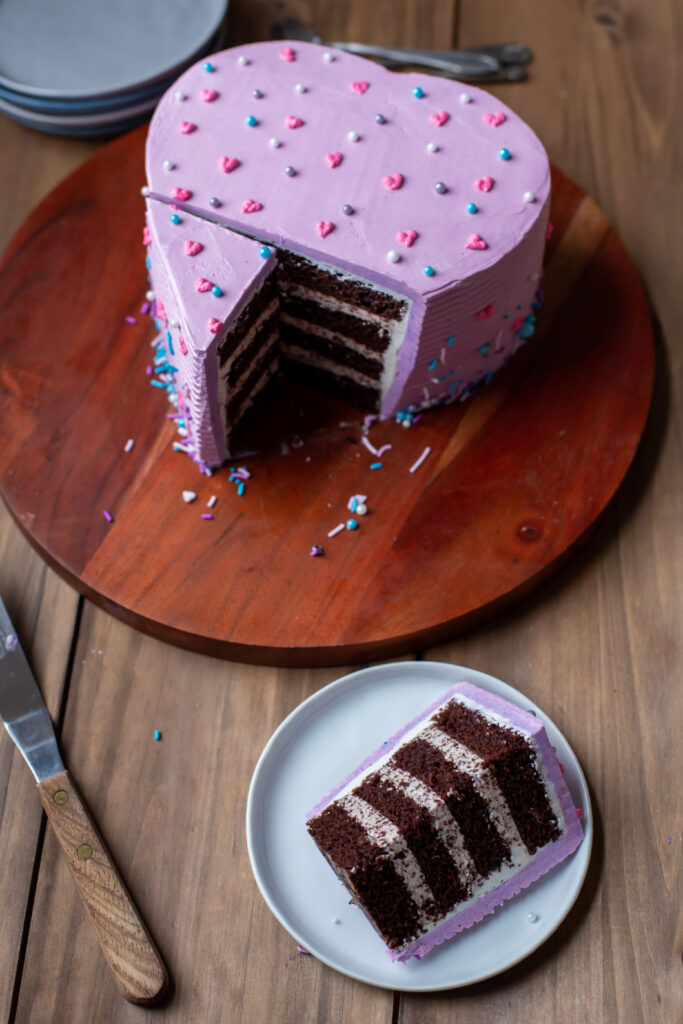 Sourdough Discard Cookies & Cream Heart Cake
From
Mostly Sourdough
at
https://mostlysourdough.com/2023/02/sourdough-cookies-cream-heart-cake/
Yield:

6 inch 4 layer cake
A classic rich chocolate cake made with sourdough discard, filled with cookies & cream buttercream, all dressed up for Valentine's Day.
You'll Need...
Cake:
225 grams granulated sugar
135 grams all purpose flour
43 grams dark cocoa powder
3 grams baking soda
3 grams baking powder
3 grams salt
1 egg, room temp
50 grams vegetable oil
4 grams vanilla
50 grams sourdough starter
110 grams whole milk
110 grams hot brewed coffee
Buttercream:
4 egg whites, room temperature
200 grams granulated sugar
2 grams salt
340-454 grams unsalted butter, room temp
5 grams vanilla
Food dye gel, as desired
Sprinkles, as desired
Filling:
1-2 cups buttercream
Chocolate cake crumbs (from leveling cakes)
Directions
Cake: Preheat the oven to 350 degrees. Butter two 6 inch cake pans, line with parchment and butter again. Dust the pans with cocoa powder or granulated sugar. Mix together the dry ingredients in a large bowl. Add the egg, vegetable oil, vanilla, sourdough starter, and milk and mix gently with a whisk to combine. Do not over mix. Be sure to scrape the sides and bottom of the bowl with a spatula. Finally, slowly add in the hot coffee while mixing. Batter will be quite thin, but that's how it supposed to be. Divide the batter between the two pans evenly, and bake for 30-35 minutes until a toothpick inserted comes out with a few crumbs. Allow to cool on a wire rack before removing from the pans.
Buttercream: In the bowl of a stand mixer, combine the sugar and egg whites. Heat over a pot of simmering water, whisking the mixture constantly so the eggs do not cook. You want the sugar to dissolve completely, and the mixture should be warm to the touch (make sure there is no grit between your finger tips at all from the sugar, it should be smooth). Immediately beat the mixture on medium high with the whisk attachment. Increase the speed to high, and beat until it is completely cool and a stiff peaked meringue forms (5-10 minutes). Switch to the paddle attachment, and slowly incorporate the butter one tablespoon at a time. You can use 340 grams (12 ounces) of butter for a more meringue-y consistency, or the full 454 grams (16 ounces) will be more buttery (duh haha). Depending on how cold your mixture vs butter are, you may need to heat the mixture again (if it starts to look curdled, heat it & beat it. If it's soupy, refrigerate it and then beat again). Once the buttercream is the right consistency, beat in the salt and vanilla.
Cookies n Cream filling: You will need to slice about 1/4 inch of cake off the tops of each cake to level them. Then slice each cake in half to create a total of 4 layers. Set aside. Mix together 1-2 cups of your prepared buttercream with a piece of the chocolate cake to create a cookies and cream flavored filling.
Assemble: Color the remaining buttercream as desired for decorating. Fill and crumb coat the cake. Chill for 15-20 minutes. Using a serrated knife, gently mark the top of the crumb coated cake with an X across the middle of it as if you were to cut it into quarters, but don't cut through. Follow the diagram (or see my video) to make the appropriate cuts. Then move the two round pieces in place to create a heart shape. Finish with the remaining frosting, and decorate as desired.
Additional Notes
This can be prepped ahead of time. The cakes can be baked the day before if wrapped well. You can also bake and freeze the cakes for up to a month. The buttercream is best when made the day of assembly.
The second best part about this heart cake is that you can make it without a special pan! This is actually made in a regular 6 inch round cake pan, but you cut it to make a heart shape. Diagram below. You can also see my Instagram Reel or TikTok video for another visual of the process. It's quite easy, but you have to just trust the process while in it.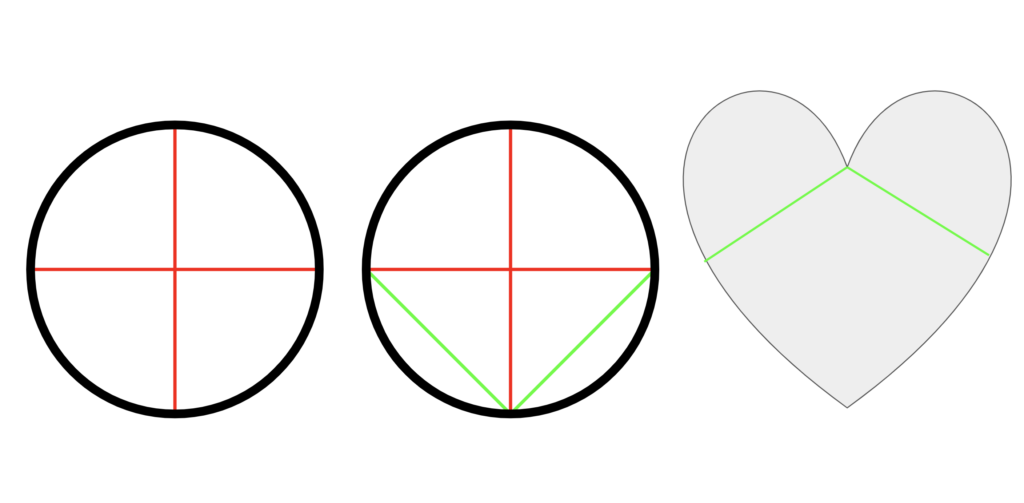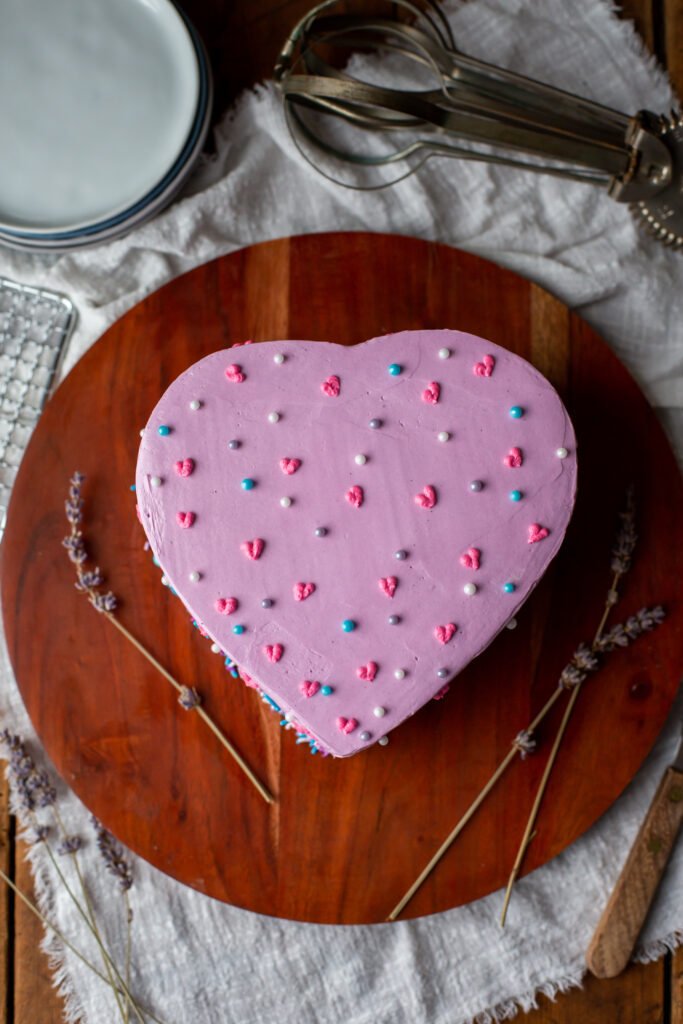 Valentine's Day has come to be a favorite baking holiday for me. I just love all the heart-themed bakes.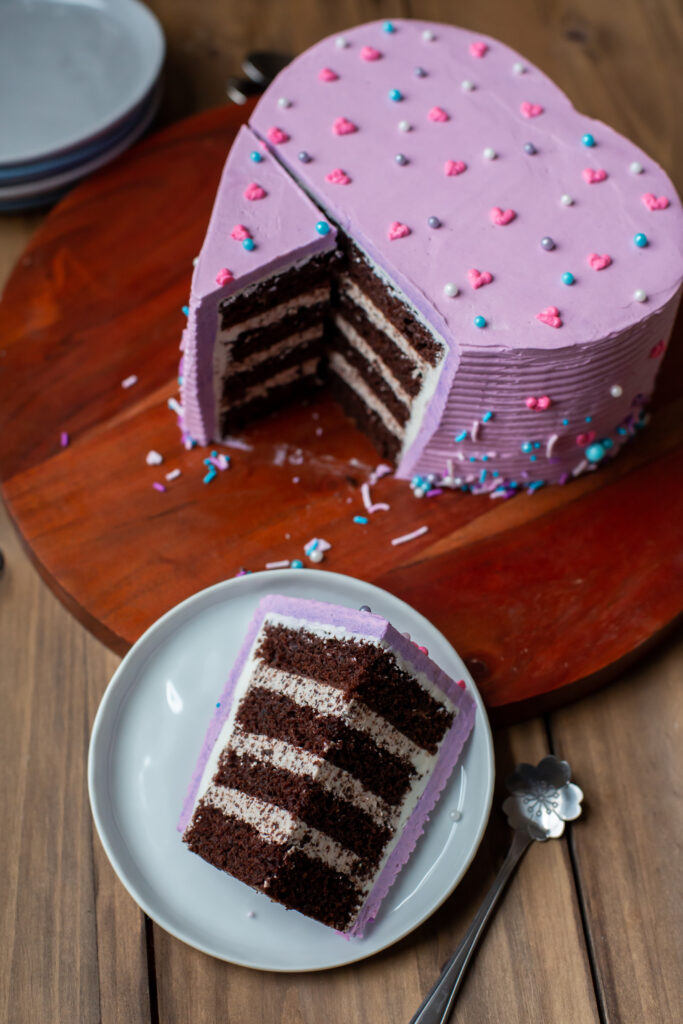 I had cake for lunch, and I'm not even mad about it. Not one bit.